Tweet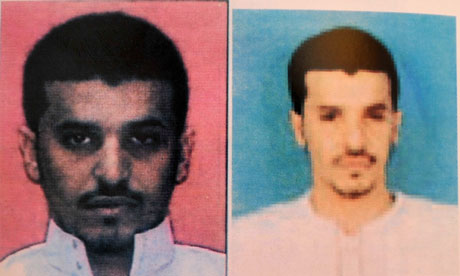 So many questions surround the terrorist plot to bring down jetliners, with so few answers and an extremely unreliable group of helpers in the search for those answers. Here are just a few crossing my mind today:
1) Was the
UPS fligh
t that
crashed in Dubai
September 2 the result of a bomb similar to the two found last week?
UPS and Dubai
say no, but how can they be so sure when the players seem so similar?
2) Was Saudi Arabian help in stopping the current plot due in any part to the fact that the suspected bombers had tried to assassinate a Saudi Prince last year? Ibrahim Hassan al-Asiri reportedly planted a bomb inside his own brother in an attempt to assassinate the Saudi chief of counter-terrorism, making the stopping of this terror group a priority for the Saudis.
2) Had this been a run of the mill plot against only American interests with participants that were of no concern to Saudi security, would that government have been so forthcoming with critical information?
3) The Yemeni government released the one suspect it had in custody. It said that another woman had used her name and I.D. How can the United States and the rest of the world comfortably rely on the government of Yemen for help in finding the suspects in this case and more importantly for stopping these groups going forward?
4) Was U.S. intelligence on it's game or merely the lucky beneficiary of help coming from elsewhere? And can this help be counted on in the future? It is up to the United States to be the captain of its own destiny!
5) This plot utilizing cargo, has exposed huge holes in the process for shipping non-humans and non-luggage cargo into the United States. Given the sophistication of the devices, the difficulty in differentiating between real cargo and devices such as these, the reliance on the packages nation of origin to do the security screening and finally the sheer volume of packages that are shipped, what process can be developed that will, to some level of acceptability, insure the detection of explosives, chemical or radiological weapons being sent?
Questions With Few Answers
While these are only some of the questions that surround this vast problem, what is the plan of the U.S. government to protect not only air travel, but the already gaping hole in U.S. security revolving around the massive transfer of mostly unchecked goods through our ports on ships and over our borders on trucks?
Currently a very small percentage is checked, and even then the check will typically be cursory at best, and non-existent at worst. We need to be a step ahead of the bad guys, not a step behind reacting to new techniques that are tried, using the hope and pray method that they will initially be unsuccessful.